Meet Our Founder: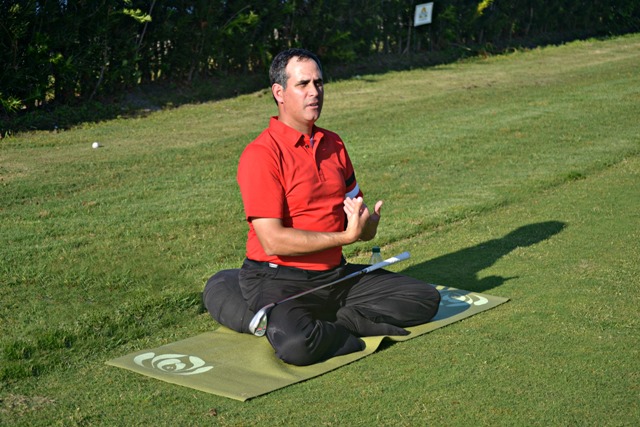 Steven Browner - (Founder) - holds a Level III Teaching Professional Certification with the United States Golf Teachers Federation and is a member in good standing of the International PGA as well as the World Golf Teachers Federation. Steven Browner brings to the Golf Dojo over 25 years of integrating Martial Arts principles of focus and Zen Meditation to the very dynamic path of practicing Golf as an Art form.
Martial Arts Training - Steven began his Martial Arts training in 1984 under Grand Master Richard Behrens at the Master's private Dojo in Coral Springs, FL. In 1992 Steven earned his teaching certificate and the rank of 2nd degree black belt under Grand Master Richard Behrens. In 1996 Grand Master Richard Behrens moved to New Mexico and Steven Browner Sensei became an assistant instructor under Master Shahab Mahidashti when he assumed the role of head instructor of the Aiki-Jutsu School in South Florida. Steven Browner Sensei retired from his position of instructor at the Aiki-Jutsu Dojo with the rank of 4th degree black belt.
A Rich History in the Game – Steven Started his golf journey in 1983. As a self professed lifelong student of the game, he was driven with a passion to play Golf well. While deepening his own technical understanding of this great game, Steven enjoyed a varied and diverse interaction with the golf industry. Among other opportunities, he was the Assistant Editor of "The Golfer Newspaper" in the early 1990's. As a member of this statewide golf publication's editorial staff, Steven's responsibilities included working with a stable of both local and National Golf Professionals on instruction concepts and articles discussing player performance. It was during this time of his golf development that the outline of "A Golf Dojo" came into focus.
Golf instruction Concepts Take Root – Steven developed and integrated techniques of stillness and presence from his Martial Arts training to deepen an awareness of the mind as it related to Golf performance. The techniques and concepts were directed at evolving the golf mind from a fiery combative warrior like perspective, to a peaceful and focused performance based platform in which a golfer can truly excel.
Elite Athlete Training – While personally applying and developing the Golf performances based concepts to his own game, Steven Browner assisted Grand Master Richard Behrens and Master Shahab Mahidashti in the creation of a sports performance based company titled the "Universal Sports Science Corp." As an instructor at the USSC, he assisted with the education of US Olympic power lifters, US Pan-Am Game Swim team members, NFL and NBA Players, as well as PGA / LPGA Golf Professionals; the evolution of these principles would combine Martial Arts techniques and specific focus Principles into a measurable performance based program; every athlete enrolled in the training excelled in performance and peace of mind while competing.
The Golf Dojo is Born – After working with and refining these principles for over a decade the mission and golf specific curriculum of the "Golf Dojo" was born. Steven Browner's mission at The Golf Dojo is to Mentor Golfers of every level to "get out of their own" way and perform. Since all golfers share a desire to experience their best game, there is a place in the golf dojo for everyone. When we say everyone, we mean social golfer, competitive elite level junior golfers, collegiate golfer, or professional tour players. The core value of the "Golf Dojo" curriculum is built around the idea that all golfers can experience dramatic advances in both inner game understanding and physical technique with focused mindful practice. Look inside yourself, your perfect game already exists there. Just Swing, Just Breathe, Just live.